Expert Pest Management Services In Summerdale, AL
Summerdale, AL is a small, quiet town located on the eastern shore of Mobile Bay. Just 11 miles from Mobile and minutes from the beaches of the Gulf, living in Summerdale gives residents access to all kinds of fun things to do. Not so fun, however, is the fact that pest activity is a year-round problem here in Alabama. That means that Summerdale homes and businesses are at risk of experiencing pest infestation. If you want to secure the proper pest protection for your property, you've come to the right place.
Here at Prewett Pest Control, we protect both residential and commercial properties in Summerdale from the dangers of infestation. We use modern technologies and digital communications to bring our customers the most positive pest control experience possible. Whatever pest problem you're facing, our effective services offer comprehensive pest coverage that you can rely on. Call us to speak to one of our experts about your pest control needs, or simply buy your pest control online and save the hassle! Prewett Pest is your source for quality Baldwin County pest control.
Home Pest Control In Summerdale, AL
Our residential pest control services give Summerdale homeowners and their loved ones the pest protection they deserve. We're here to provide you with complete coverage concerning over 30 common household pests. Our Prewett Protection Plan offers you:
Year-round pest protection

Coverage from over 30 pests

Comprehensive initial inspection

Interior treatment as needed

Exterior perimeter treatment

100% satisfaction guarantee

Text appointment reminders

Online customer portal

24/7 customer service
Our plans start as low as $30 per month, and our customized services are tailor-made to fit your specific needs. Call us today to discuss your residential pest control needs, and we'll get started right away.
Simple Pricing
A Plan Designed For Any Pest Situation
All Prewett Protection Plans Come With:
Exterior Treatment | 100% Satisfaction Guaranteed | 24/7 Customer Service
Three Things Homeowners In Summerdale Should Know About Termites
Termites are highly destructive pests that all local property owners should be aware of. Here are three things homeowners in Summerdale should know about termites:
Termites feed on materials that contain cellulose, such as wood, cardboard boxes, and other belongings. They eat away at the construction of your home and threaten its structural integrity. As their colonies grow and spread, the damage worsens, and it's absolutely impossible to deal with on your own.
Termite damage can get very expensive. The N.P.M.A. (National Pest Management Association) estimates that termite damage costs U.S. homeowners an average of five billion dollars every year. This includes termite prevention costs and repair costs.
Something else to consider is the fact that most home insurance plans don't cover termite damage. This makes it even more important to be as proactive as possible in your termite control needs.
Call on the team at Prewett Pest Control & Termite to address your termite control and prevention needs today. We're here to protect you from termite infestation, so contact us today to get the ball rolling.
Where Do Bed Bugs In Summerdale Come From?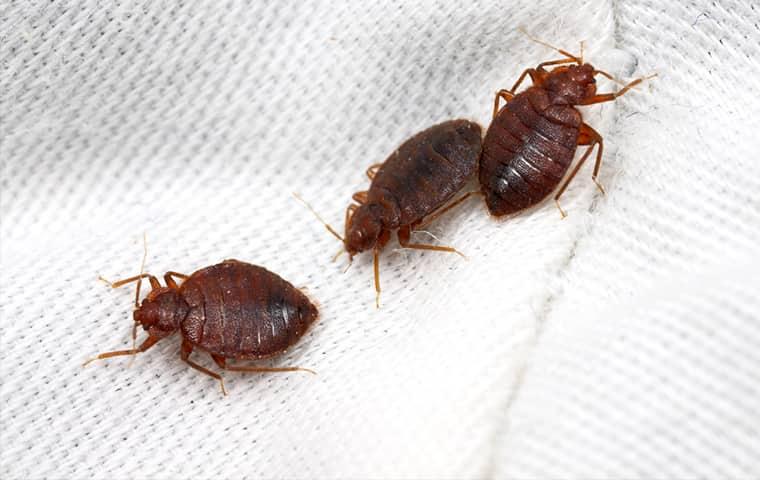 Bed bugs are nocturnal parasites that emerge while we are asleep to feed on our blood. They prefer dark remote areas that are soft and humid; this makes fabric one of their favorite places to hang out.
Common problem areas where you will often find them include sheets, pillowcases, mattresses, box springs, and bed frames. Other areas where you may discover bed bugs include the couch, chairs, cushions, curtains, clothing, carpets, furniture, walls, and floors. Sometimes they're even found hiding in your electronics and outlets.
Bed bugs often catch a ride into your home on visitors or deliveries. Someone may have picked them up while traveling, getting them from a hotel or another passenger on your flight. Once inside your home, bed bugs use their flattened bodies to fit into tiny hiding spaces, and over time they scatter to other rooms in the house.
Now that you know where bed bugs in Summerdale come from, it's time to assess your bed bug situation. Call in the experts at Prewett Pest Control & Termite to set up your initial inspection.
Commercial Pest Control In Summerdale, AL
The team at Prewett Pest Control offers complete commercial pest solutions that local business owners can rely on all year long. After our initial inspection, during which we thoroughly detect all pest activity, conducive conditions, and moisture problems, our team comes up with a customized treatment plan that you can feel good about.
We offer a wide range of interior and exterior services, some of which include de-webbing, treatment of cracks and crevices, hotspot baiting, thorough dusting behind voids, appliances, and plumbing, removal of nests, and foundation spot treatment. With convenient scheduling and simple pricing options, we work with you to make sure the entire process is as seamless as possible. Reach out to us today and speak with one of our representatives about your pest control needs.