Modern, Convenient & Effective Pest Control In Notasulga, AL
Conveniently located right between Montgomery, Alabama and Columbus, Georgia, the town of Notasulga, Alabama is a beautiful suburb. We offer a picturesque snapshot of life in eastern Alabama. However, pest activity is also a part of the picture, and that means our homes and businesses are exposed to the threat of pest infestation. Pests can have detrimental effects on your property and all those inside it, which is why securing professional protection is so important.
Here at Prewett Pest Control, we're proud to offer modern, convenient, and effective pest solutions to properties throughout Lee County, Macon County, and the surrounding areas. We use modern technologies and digital communications to bring our customers the most positive pest control experience possible. No matter the nature of your pest situation, we are ready to help. Our team is thoroughly experienced in the complete detection, extermination, and prevention of nuisance and dangerous pest activity. Reach out to us today and speak with one of our representatives about your pest control needs.
Residential Pest Control In Notasulga, AL
Household pest infestation not only threatens your home, but it compromises the health and safety of your loved ones. That's why homeowners should seriously consider their pest control needs. Our Notasulga, AL residential pest control services provide year-round protection from over 30 common pests. We thoroughly cover the interior and exterior of your home, paying special attention to common problem areas and conducive conditions.
Whatever kind of pest problem you've got on your hands, Prewett Pest Control is ready to help. Our 100% satisfaction guarantee promises you lasting results that you can count on. Get in touch with us to hear more about our Prewett Protection Plan. Starting at just $30 per month, there's really no excuse not to secure the protection that your home deserves.
Simple Pricing
A Plan Designed For Any Pest Situation
All Prewett Protection Plans Come With:
Exterior Treatment | 100% Satisfaction Guaranteed | 24/7 Customer Service
Three Ways To Reduce Your Exposure To Mosquitoes In Notasulga, AL
Mosquitoes are one of the most notorious insects, known for leaving their victims with itchy bites. If you want to avoid these blood-feeding vector pests, it's important to be proactive in your preventative efforts. Here are three things you can do to reduce your exposure to mosquitoes:
Use insect repellent when spending time outdoors. Try to wear long sleeves and long pants when possible, or wear clothing treated with repellents like permethrin or DEET.

Remove sources of standing water around your property. This includes tires, buckets, kiddie pools, pets bowls, and birdbaths, among others.

Keep windows and doors closed when possible, or make sure you have the protective window and door screens, or replace existing ones that may be damaged.
The most effective source of mosquito control is with ongoing services from the pros. The team at Prewett Pest Control provides complete mosquito control and prevention services in Notasulga that guarantee continued protection for your property. Request your free quote today and we'll get the ball rolling.
Common Signs Of Termite Damage In Notasulga, AL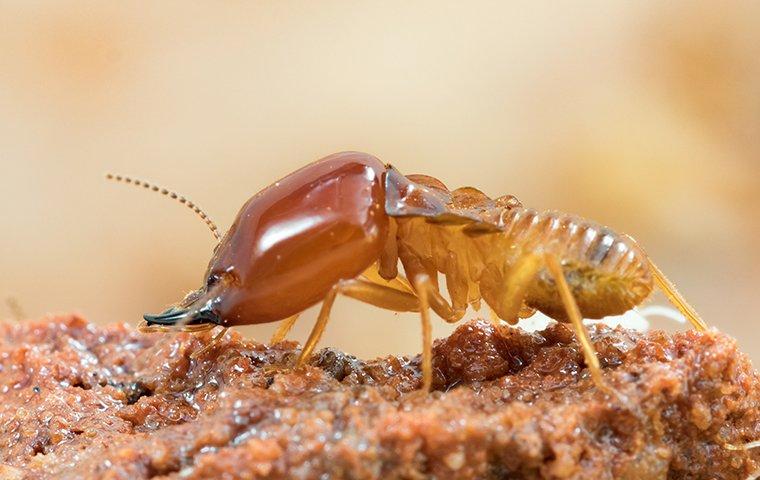 Termites are highly destructive pests that cause large scale property damage. As they burrow through and feed on the structural timbers of your home or business, they erode the construction and make it an unsafe place to be. The earlier you're able to detect an infestation, the sooner you can treat it and minimize the scope of the damage. Here are some common indications of termite activity that you should be on the lookout for:
Damp, damaged, or weakened wood

Excessively squeaky or noisy floors

Gallery tunnels through drywall

Hollow-sounding wood when tapped upon

Painted walls that bubble and peel

Small tapping sounds from inside the walls

Visible cracks and crevices along the foundation

Wings discarded on the floor near doors and windows
If you suspect termite activity on your property, it's important that you address the situation immediately. The smartest thing to do is call in the pest professionals right away. Here at Prewett Pest Control, we offer quality termite control and prevention services that you can count on all year long. Call us today to learn more, we look forward to helping you.
Commercial Pest Control In Notasulga, AL
Owning a business requires you to constantly be on your feet. It's important to always keep an eye on everything, making sure everything is running smoothly. When pest activity enters the picture, it can become overwhelming. That's why we're here at Prewett Pest Control to help lighten the load. Allow us to take care of all your pest control concerns. Our commercial pest control services offer complete pest coverage that Notasulga business owners can rely on.
We cover a variety of properties from a long list of common area pests, including ants, centipedes, crickets, earwigs, mice, rats, millipedes, pillbugs, roaches, scorpions, silverfish, spiders, and many others. With convenient scheduling and simple pricing options, we work with you to make sure the entire process is as seamless as possible. Call us today to speak to one of our experts about your commercial pest control needs.