Professional Pest Control For LaGrange, GA Properties
The South has a lot of things going for it in terms of climate. We get plenty of rain, our winters are mild, and though our summers can be brutal, our springs and falls more than make up for that. However, the features of our climate that make living here so pleasant also allow pests to thrive. This can make pest control in LaGrange a big hassle for area residents and business owners alike. Fortunately, we've got your back here at Prewett Pest Control.
Residential Pest Control In LaGrange
Residential pest control in LaGrange is typically not top of mind for most homeowners. Not only is it unpleasant to think about all of the pests constantly trying to invade your home, but it's also easy to let infestations slide if they are not right in your face. However, the consequences of allowing pest infestations to gain a foothold in your home can be severe. For instance, there are a whole slew of pests in our area that can threaten your health either through their venom or the diseases they carry, including:
Rats
Mice
Cockroaches
Dangerous spiders
Stinging insects
Mosquitoes
Ticks
Wildlife
There are also plenty of pests that can threaten your property, termites being chief among them. With all of these destructive and dangerous pests running around, it's easy to see how protecting yourself through professional pest control can save you money, time, and stress in the long run.
Simple Pricing
A Plan Designed For Any Pest Situation
All Prewett Protection Plans Come With:
Exterior Treatment | 100% Satisfaction Guaranteed | 24/7 Customer Service
How To Reduce Mosquitoes On Your LaGrange Property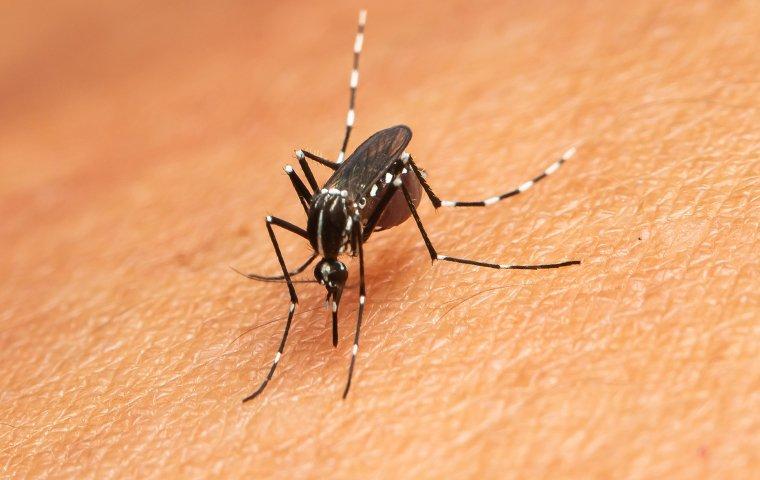 Mosquito control is some of the toughest pest control to accomplish in our area because we have so much water. Mosquitoes need moisture to breed, and we have that in spades here in LaGrange. This means that removing standing water on your property might not cut it when it comes to getting rid of mosquito infestations. It can help, but if mosquitoes are breeding nearby, they can fly onto your property and bite you all the same.
Even if you remove standing water and plant things that repel mosquitoes (like lavender or rosemary), you might still have a lot of them buzzing around your backyard or even your outdoor commercial space. If you have followed mosquito control best practices and still can't get rid of these disgusting and annoying pests, give us a call.
Our LaGrange mosquito control experts can help you repel even the toughest mosquito infestations. Not only can we treat outdoor areas to repel mosquitoes, but we can also help you figure out weaknesses in your own anti-mosquito measures to help make your property less attractive to these biting pests.
Termite Troubles In LaGrange? We Can Help!
Termites are pretty much the opposite of mosquitoes in the sense that, while mosquitoes are almost impossible to ignore, you may never know termites are present. This is what allows them to be so destructive. Most active termite infestations can hide in your home for months or even years before you realize you have a problem. In fact, termite damage is all too often the first clue that lets most home and business owners know they have a termite issue.
This is why regular termite inspections from termite experts are so vital. Trained eyes can spot signs of termites that are not apparent to non-experts. This can allow you to realize you have a problem and get the termite removal process started while infestations are still in the early stages and have not yet caused damage.
Inspections can also help you identify conducive conditions that may attract future termite infestations. This is why it's so vital to contact professional termite services before you start seeing signs of infestation. Once you start seeing signs of termites, they have likely already done at least some damage. So don't wait. Call Prewett Pest Control for your termite control services in LaGrange today.
Commercial Pest Control In LaGrange
Pests don't just spread disease and destroy property in residential areas. They are just as much of a threat, if not more of a threat, to your commercial establishment. Pests can threaten business owners in a variety of ways, from contaminating restaurant food to infesting hotel beds to damaging commercial buildings and more.
A pest infestation doesn't just threaten your customers, employees, and property. It can also get you in major trouble. For instance, the Health Department can fine you or even shut you down for certain pest infestations. Pests may also affect employees or customers who are harmed by them. Obvious pest infestations can also damage your business reputation and your bottom line.
For all these reasons, it's best to protect your professional space and reputation by contacting commercial pest control services in LaGrange. Here at Prewett Pest Control, we can help you ensure that your property and your livelihood are protected from nasty pests like rodents, cockroaches, termites, and more.